Tanker Rollover Case 1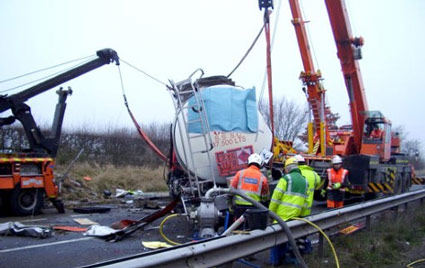 A client's tanker has rolled over at 06:20 am spilling hazardous product on the highway. This incident resulted in a major A-road being shut at the beginning of the morning rush hour. As a client of OHES's 24-7 Emergency Advice service and OAMPS insurance, just one phone call was needed and we handled it from there…
| | |
| --- | --- |
| 06.20 | Time of incident |
| 06.25 | 24-7 Emergency Advice phone call received, advising of the incident |
| 06.41 | Tank details identified by 24-7 and the client was notified of spillage |
| 06.50 | Client confirmed the contents of the tanker and requested that OHES's 24-7 team deals with the incident using the resources of the OAMPS scheme |
| 06.58 | Fire brigade on site and in regular contact with 24-7 Emergency Advice |
| 07.00 | OHES team en-route to incident location with UK Spill accredited contractors |
| 07.25 | Full report provided to OHES incident response team |
| 08.45 | OHES Consultant is on site reducing environmental risk, arranging vehicle recovery and liaising with the emergency services |
| 10.40 | OAMPS appointed remediation response crew arrive on site to minimise spillage damage |
| 13.45 | Additional crew arrive to transfer remaining product out of damaged vehicle and vehicle "righted" |
| 16.00 | Carriageway begins to open in time for rush hour traffic |
Tanker Rollover Case 2
OHES were called following a road traffic collision involving a road tanker transporting 34,000 litres of Gas Oil on the M62 Motorway.
The tanker collided with the central reservation barrier and overturned resulting in a large spillage of oil onto the carriageway and closing the motorway in both directions. OHES mobilised a specialist crew selected from our network of UKSpill accredited contractors. The crew utilised tanker rollover containment equipment to prevent further loss from the vehicle and transhipped the product still on board onto a spare tanker. 28,000 litres of product had escaped onto the roadway and into associated drainage and the receiving watercourse. The Fire & Rescue Service had managed to contain a significant amount of oil utilising simple environment protection equipment. This contained product was recovered by our contractor and works commenced in the watercourse to boom and stop the further spread of pollution.
Prompt actions permitted the reopening of the motorway and environmental damage was kept to an absolute minimum.