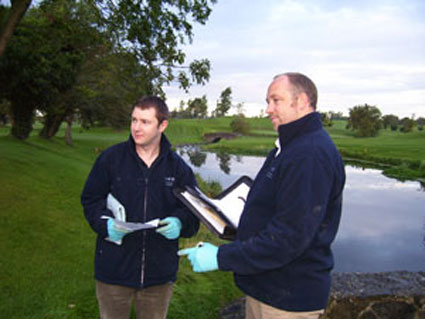 OHES were instructed by insurers to provide a second opinion on a remediation scheme proposed following an oil loss of several thousand litres into land and a watercourse running through a championship golf course in Ireland.
The golf course had been seriously impacted visually in the days and weeks following the pollution incident which occurred as a result of an attempted theft of oil from a bulk storage tank nearby. There was natural concern over the appearance and odour of the watercourse and 5 lakes running through the golf course and over the planned irrigation of greens using water from the lakes.
A previous study had recommended closing the golf course, relocating the signature hole for the course, draining all the lakes, removing lake sediment and extensive soil removal from bankside locations throughout the affected area. Remediation and disruption costs approaching £2M had been suggested to insurers.
OHES undertook a comprehensive risk based intrusive site investigation and concluded that remedial actions should be limited to removal of identified hotspots and not exceed £25K over and above normal routine course maintenance activities. The course could remain open with no risk to users and no disruption.
Due to our excellent and pragmatic reputation we are often asked to comment on proposed remediation schemes and act as expert witnesses for insurers.