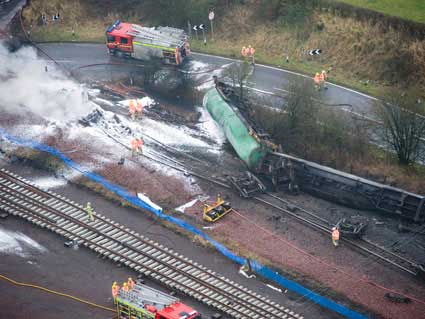 Following a major freight train derailment in Scotland resulting in the release of 240,000 litres of fuel, OHES were appointed as lead environmental consultants to direct and manage the emergency pollution control response and investigative and remediation programme to protect and restore the environment.
The immediate area around the crash was heavily impacted and neighbouring agricultural land and a watercourse were heavily contaminated with oil visible along 27km of river. Emergency actions mitigated the damage to the environment; a risk based remediation strategy was formulated and remediation measures were successful at removing and controlling ongoing risk. Working closely with our client to ensure the railway could become operational again within a very tight timescale our pragmatic, professional and efficient approach to this challenge was recognised and appreciated.
This incident utilised our complete range of in-house expertise from incident management, contaminated land investigation, groundwater investigation and modelling, remediation management, to ecology and fishery surveys. The team provided a comprehensive and intergrated response which satisfied our client, insurers, local land owners, interested parties and the environmental Regulators.